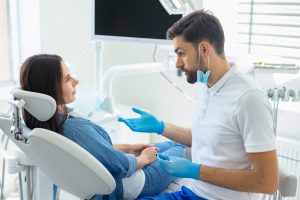 While any kind of tooth trauma is something to be taken seriously, few oral health problems can cause alarm like the loss of a tooth. The sight of a tooth after it has been knocked out can put you in a state of panic. Can it be safely put back in place? How can you arrange treatment? What will happen if you are not able to save the tooth? Our Prairie Village, KS dentist's office is here to help individuals who need to seek emergency dental work. Hopefully, the tooth will still be healthy enough to save. If there is no way for it to be put back into place, we are able to help by providing prosthetic dental work.
Can Your Lost Tooth Be Saved?
Sometimes, an injury that knocks out a tooth will also damage it to the point where it cannot be saved. With that said, it is often possible to return a tooth to its socket and restore its health…provided you seek treatment in time. One reason we provide emergency dental services is that we recognize that some problems call for urgent attention. Call our practice as soon as possible to see what you can do to schedule care in the shortest time possible.
Transporting The Tooth Safely And Responsibly
Improperly traveling with your tooth can lead to its being lost. Practice the following protect a tooth if it has been knocked out and cannot be comfortably put back in place:
DO NOT touch the tooth by its roots; handle it by its crown (the visible portion) only
Carefully rinse the tooth, but be careful about removing organic matter
Warm water or a small container of milk can be used to safely transport your tooth, and keep it from drying out before your appointment
Your Dentist Can Restore Your Full Smile
Hopefully, your emergency treatment will lead to your tooth being returned to you and restored. Even if this calls for services like root canal treatment and a dental crown, this ensures that your smile remains fully intact. If your tooth cannot be saved, it is still possible for your smile to be restored. With a dental implant, we can keep a prosthetic tooth in position permanently. You can rely on the implant-held restoration to support your bite, and it can preserve the appearance of your smile.
Our Prairie Village, KS Dentist's Office Can Offer Emergency Appointments
Our Prairie Village, KS dentist's office is prepared to help you if you are in need of emergency dental treatment. We understand that some problems call for urgent treatment, and we are prepared to help you if you in these circumstances. To learn more about Dr. Browne's services, call our Prairie Village, KS dentist's office at 913-901-8585.