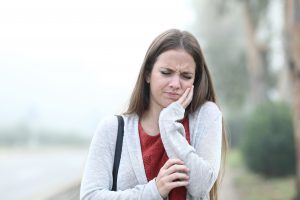 Cracking a tooth, or breaking a portion of it, can expose you to an infection that puts your oral health in jeopardy, and causes notable pain. While these are concerns that you should take seriously, many people have a more immediate concern – in addition to causing pain, dental damage can seriously hurt your smile! At our Prairie Village, KS dentist's office, we recognize just how serious it can be when a person experiences a dental injury. Because of this, we are ready to deliver emergency oral health care when it might be required.
Our Practice Makes Emergency Services Available For Patients
Sometimes, a matter that affects your oral health needs to be addressed as soon as possible. When this is the case, our practice is prepared to make your needs a priority. We do provide our patients with access to emergency visits, including same-day care whenever possible. Doing so allows us to quickly address a problem that is causing you pain. It also helps us respond quickly so that a tooth that is vulnerable to being lost can be restored.
What Can You Expect During An Emergency Visit
The type of care you receive during a dental emergency will vary based on the condition of your tooth. If you have a serious chip or crack, your dentist can go through the process of restoring its health by performing a root canal procedure. This removes damaged or infected internal tissues, so that you are not in continued pain. A root canal procedure is also important for preventing bacteria from traveling through a tooth's root to do more harm to your oral health. Once the tooth has been cared for in this way, we can arrange the placement of a dental crown. A crown covers a tooth so that it is not vulnerable to further harm, and so that you do not have to worry about visible damage affecting your smile.
We Can Help Restore Your Smile Even If Your Tooth Cannot Be Saved
There are some unfortunate circumstances where a tooth must be extracted, even if prompt care is provided. While this can be upsetting, you should be aware that extraction can stop discomfort and prevent further complications from occurring. You should also know that we can restore your smile with a custom prosthetic restoration. With the support of a dental implant, we can give you a lifelike prosthetic tooth that stays permanently in place, and provides valuable functional and cosmetic support.
Our Prairie Village, KS Dentist's Office Can Offer Emergency Care For A Cracked Or Broken Tooth
At our dental office, Dr. Browne is prepared to help patients in need of emergency dental work. If your tooth is broken, cracked, or otherwise seriously harmed, call our Prairie Village, KS dentist's office at 913-901-8585.