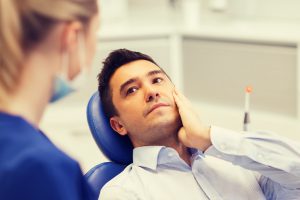 What should you do with a tooth if an injury knocks it completely loose from your smile? Is there any hope of having it returned to its proper position, and if so, what can you do to make a successful recovery more likely? One important thing to understand is that your tooth can only be dislodged for a limited time before it will not be appropriate to return it. You should also be aware that safe handling of the tooth can improve your ability to have it put back in place. At our Prairie Village, KS dental office, patients can count on us to bring them in for prompt emergency dental care in situations like this. We can also provide tips when you call in for safely handling your tooth.
Be Careful About How You Handle A Dislodged Tooth
It is important that you avoid making any contact with the roots of your dislodged tooth. When you pick it up and carry it, be sure you only hold it by the crown. If you are in a position to do so, you can rinse the tooth in warm water. Using warm milk to carry it can prevent it from drying out – this can buy you more time for a successful recovery.
It is important to note that there may not be a way for your dentist to save a tooth, even if it is properly handled. If it spends too much time loose, or if the damage is just too serious, it may be necessary to start discussing the placement of a dental prosthetic.
Is It Safe To Place The Tooth Back In Its Socket?
If the tooth is only partially dislodged, or if it stays in your mouth, you can try to return it to its socket, but pay attention to the way it feels. If you find this experience uncomfortable, it may not be easy to keep in place. Handling it appropriately and bringing it to your dentist may be the safest and most comfortable option.
What Your Dentist Can Do For You When You Lose A Tooth
In the event that you need help with a partially or totally dislodged tooth, your dentist's first goal will be to return it back to its socket, and preserve all of your teeth. If this is not something that we can do, we can move to discussing your options for prosthetic dental treatment. Dental implants can be put in place to hold an artificial tooth, but if there are problems with your jawbone after your injury, or if you want to have a permanent restoration as soon as possible, you may want to discuss having a dental bridge put in place.
Dr. Browne Is Ready To Help If You Lose A Tooth!
At our Prairie Village, KS dental practice, Dr. Browne wants patients to know that they have access to dependable emergency dental care if they need it. If you have a situation where a tooth is injured, or even knocked completely loose, we are ready to take swift action to restore it, and take care of your smile and oral health. To learn more, or to plan a visit with Dr. Browne, contact our office today at (913) 901-8585.