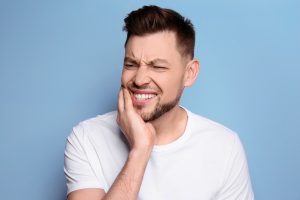 Your healthy smile can be protected against tooth decay, but even the best oral care routine still leaves us vulnerable to physical dental trauma. If you find yourself with a broken or cracked tooth after an accident, you can feel both discomfort and alarm over your smile. Fortunately, this is a problem that our Prairie Village, KS dental office can address promptly! We make emergency dental services available to our patients when they experience an injury, or any other situation that requires urgent treatment. When you call to make an appointment, we can also recommend measures you can take to help alleviate discomfort, or protect any dental material that has been lost.
Arranging Emergency Dental Care
Simply put, if you need urgent treatment, reach out to schedule that care as soon as possible. Our office understands that patients sometimes have problems that must be addressed as soon as possible. We are prepared to restore a damaged tooth, or – if necessary – arrange its extraction and replacement.
Tips To Help You Stay Comfortable On Your Way To See Your Dentist
If you have a tooth that is badly cracked, broken, or even completely dislodged, you can have several concerns about it that you should address before you reach our practice.
If your tooth is cracked, a pain reliever and a cold compress at the site of the tooth can help you manage your discomfort.
For a broken tooth, make sure you handle the dislodged portion of your tooth with care, and wash it gently in warm water. Moist gauze or a clean cloth can be used to address any bleeding that may occur.
If a tooth is actually lost, be careful to only touch its crown (the portion that normally resides above your gum line). When you bring it to the office, keep it in a container of milk so that it can stay moist.
Our Practice Can Restore Your Smile After A Serious Injury
A broken, cracked, or lost tooth can create problems for your appearance, and also leave you in considerable discomfort. When we provide emergency services, we commit to fully restoring a person's smile and addressing that pain. In many cases, restorative dental treatment for a dental emergency can involve the placement of a dental crown. If your injury is in a visible area, we can recommend restorations that imitate healthy tooth enamel. If a tooth cannot be saved, we can plan a smile restoration with a dental implant-held prosthetic.
Talk To Dr. Browne About Emergency Care For Your Chipped Or Cracked Tooth
At our Prairie Village, KS dental practice, our patients can come to us when they need emergency dental treatment! If you have questions about our services, or if you want to arrange care, contact our office today at (913) 901-8585.