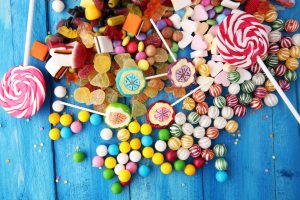 Halloween can be one of the most fun-filled holidays of the year, but one wrong bite into a hard candy can put an abrupt end to your good time! If you wind up damaging a tooth on Halloween candy, you can be understandably worried about your smile and oral health. At our Prairie Village, KS dental practice, we are ready to take care of our patients when they chip or crack a tooth, and need prompt care. During your emergency dental work, we can address the harm you have experienced, take care of discomfort, and make sure that your restorative dental work preserves your smile.
Hard Candies Can Do Serious Damage To A Tooth
Generally speaking, candy can be trouble for your smile thanks to the risk sugar poses for your oral health. With that said, hard candies carry an additional risk – you could find yourself with a chipped or cracked tooth after biting into something unexpectedly firm. For some people, a chip or crack can be seriously painful, and call for restorative treatment. In other cases, the damage can be superficial, but still a major concern because of the effect your chipped or cracked tooth can have on your smile. We understand how upsetting dental damage can be, and we want our patients to know that they can arrange prompt care when they experience it.
We Make Emergency Treatment Available For Patients In Need
Our patients can reach out to schedule emergency treatment if they experience dental trauma. Our goal is to make care as convenient as possible, and help you feel less upset at the situation. With that said, emergency is also valuable because your tooth may need urgent attention if you want to save it. If your tooth is broken or dislodged, avoid touching its root, avoid exposing it to possible infection. Carrying a dislodged tooth in a container of milk can help you keep it safe until you arrive.
We Can Restore Your Smile With A Lifelike Dental Crown
If you chip or crack one of your front teeth on a piece of hard candy, we can use a lifelike dental crown to both protect your tooth and preserve your appearance. The restorations that we rely on are custom-made to fit in with a person's smile. As important as it is for us to help you regain your appearance, you should know that your crown is also designed to provide valuable functional support so that you can continue to bite and chew comfortably.
Dr. Browne Is Ready To Provide Emergency Care For Our Patients
At our Prairie Village, KS dental practice, Dr. Browne is ready to help patients in need of emergency treatment! To find out more about our urgent care services, contact our office today at (913) 901-8585.