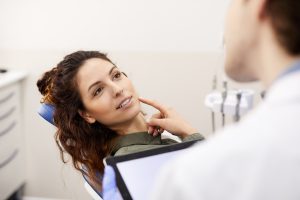 If your injured tooth is in persistent pain, or if your enamel is chipped or cracked, you could be at risk for an infection. An infection that occurs after an injury can be uncomfortable, but it can also be a sign that your oral health is in jeopardy if you do not seek treatment. Until the matter is dealt with via the appropriate restorative dental treatment, discomfort can continue to affect you, and put you at risk for losing the tooth! At our Prairie Village, KS dental office, we make sure our patients know they have access to emergency dental care. If you think something might be wrong with your smile after an injury, even if you do not see visible damage, we can make sure the matter is promptly addressed.
How Serious Is A Tooth Infection?
If your tooth becomes infected, bacteria that gather in your pulp can damage the living tissues keeping it healthy, and create further problems as those bacteria spread through your roots. In time, an infection can lead to new health problems, and require the removal of your tooth! Fortunately, the matter can be addressed before these problems occur, so you can preserve your tooth, and your well-being.
We Can Promptly Address An Injury During Emergency Care
If your tooth is injured, we are ready to respond quickly by addressing the matter with a root canal procedure. We have experience bringing in patients who have chipped or cracked teeth, or even teeth that are fully dislodged, and restoring their smiles. We want our patients to know that they can reach out to us and arrange care on short notice because we understand how serious a tooth injury can become, particularly when there are concerns of infection.
You Can Feel Confident In The Look Of Your Restored Smile
In addition to making sure that your oral health concerns are addressed, our practice is ready to provide restorative work that preserves your smile! We can restore damaged teeth with dental crowns made from an attractive porcelain material, so that the restoration fits in with your surrounding smile. If you need a crown that can offer more functional support, lifelike zirconia crowns are also available!
Dr. Browne Is Ready To Set Up Emergency Care For A Tooth Injury
At our Prairie Village, KS dental practice, Dr. Browne is prepared to help you address a situation that calls for emergency care. If your tooth structure is damaged, if you have lingering pain, or if a tooth is loosened or lost, we can work to restore both your appearance, and your oral health! We are also available to provide ongoing oral health support through routine preventive and restorative care, and we offer a variety of cosmetic dental services. To learn more or to schedule a visit with Dr. Browne, contact our office today at (913) 901-8585.