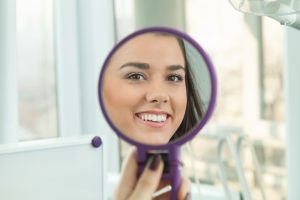 Dental emergencies can hurt, and they can hurt your smile. One thing that makes dental injuries so upsetting is knowing how a single damaged or lost tooth can have a significant impact on the way you look. What you can be happy to know is that at our Prairie Village, KS dentist's office, we can provide you with emergency dental care that can lead to both restorative and cosmetic benefits. This is possible because our practice relies on lifelike restorations when treating problems with damaged and decayed teeth. As a result, your emergency care can give you back your confidence in your smile, while also taking care of discomfort.
A Dental Injury Can Create Big Problems For Your Smile
A single missing tooth, or a tooth with a visible chip or crack, can change your entire smile as you know it. Because damage can stand out so jarringly, you can feel understandably concerned that everyone's attention will immediately move towards your unflattering injury. What makes this problem even more frustrating is knowing that until the tooth is treated by your dentist, the damage will remain unchanged.
Arranging Restorative Treatment On Short Notice
Our practice is prepared to see patients when they are in need of emergency dental services. While this is hopefully something you never need to receive yourself, you can be relieved to know that in a situation that calls for prompt care, it will be available. The first goal during the treatment of your dental emergency will be the restoration of your tooth's health. This may require a root canal procedure, if you experience internal tooth trauma. After this is complete, the placement of a restoration can be arranged.
We Provide Restorations That Look Great, And Offer Important Support
Dental crowns are often needed after a person experiences a dental injury. If the injury happens to a tooth that is visible when you smile, you can discuss receiving a lifelike porcelain crown, or one made from zirconia. Both of these materials are able to impersonate your natural tooth structure, but zirconia offers more durability. You can also be happy to know that a lifelike crown held in place by a dental implant can serve as an attractive restoration if you experience tooth loss.
Dr. Browne Is Ready To Help Patients Who Experience Dental Emergencies
Dr. Browne understands that dental emergencies can be scary, and painful, events. Our practice is prepared to offer patients urgent care in situations where it might be called for, and we can make sure that in addition to restoring your smile's health, we can also take care of your appearance. Of course, we are also prepared to help you maintain your oral health through routine appointments. To learn more or to schedule a visit with Dr. Browne, contact our office today at (913) 901-8585.