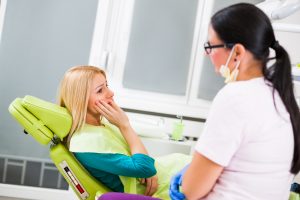 During our office hours, our Prairie Village, KS dental practice is ready to provide an array of beneficial oral health services. In most circumstances, patients should be able to cover all of their needs by making an appointment, and arriving at the scheduled time for whatever treatment they might seek. However, there are circumstances where problems arise unexpectedly, and call for treatment on short notice. We want you to know that our office is prepared to provide treatment during a dental emergency. While it can be hard to relax when you are dealing with dental trauma, you can be reassured that we can directly address your problem, and provide care to restore your smile and oral health.
Dental Emergencies Can Be Scary – We Are Ready To Help You
Even with easy access to care, dental emergencies can be scary. Trying to deal with discomfort, while trying not to worry about your smile, can be a taxing experience. With this in mind, we take care to provide our patients with access to urgent treatment in situations that might call for it.
Tending To Different Dental Problems That Call For Emergency Care
So what kind of services are provided during emergency dental work? Many different experiences can make professional care a priority, including:
Injuries that leave you with visible chips or cracks
A loosened tooth
A tooth that is completely dislodged
Dental pain that is difficult to manage, or ignore
By providing care as soon as possible, we can give you a better chance at saving a severely damaged tooth, or one that has been dislodged. We can also make you comfortable through treatment, so you do not have to continue dealing with serious pain.
How Will You Look After Emergency Treatment?
The modern restorative dental work that we offer can preserve the appearance of your smile, so you will not have to worry about a permanent change to the way you look because of an injured tooth! We can have custom dental crowns made that imitate teeth, so that a visible restoration is not going to make you self-conscious. If you have a tooth that cannot be saved, we can provide you with a dental bridge, or dental implant-supported restoration, that makes your smile appear healthy, whole, and attractive.
Dr. Browne Is Ready To Provide Care During A Dental Emergency
Dr. Browne is prepared to help patients when they experience dental emergencies. In addition to providing relief from a painful problem, we can provide restorative work that addresses any concerns you might have about your smile after an injury takes place. To learn more about our Prairie Village, KS practice, or to schedule a visit with Dr. Browne, contact our office today at (913) 901-8585.