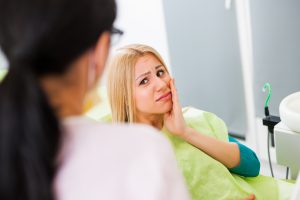 Is there anything your dentist can do to help you if you lose a tooth after an injury? The unfortunate reality is that some dental injuries are just too severe to make saving a lost tooth possible. However, this does not mean there is no reason to see your dentist for emergency dental work. In fact, even if your tooth is not salvageable, treatment in response to an injury can be important. Your Prairie Village, KS dentist's office makes emergency services available to patients, so you have the best possible chance of having a dislodged tooth saved. In a situation where this is not possible, your dentist can discuss the placement of a modern, attractive dental prosthetic with you.
Prompt Care Can Be Important After A Serious Tooth Injury
If you have a tooth that is loosened, partially lost, or completely dislodged after you experience a dental injury, you should seek dental treatment as soon as you can. Arranging this work can give you a better chance of saving a tooth that is at risk of being lost. It will also give your dentist a chance to examine the tooth closely, and address any serious health problems. Even if a tooth is not in immediate danger of being lost, it could require a root canal treatment to address internal damage. If nothing is done about internal harm in a timely manner, it can become a more significant issue over time.
Restorative Care That Preserves Your Original Tooth
In a case where your dentist can save your tooth, a root canal may be needed to make sure internal issues are addressed. In addition to this work, you should expect to receive a permanent restoration to protect the tooth. You can be happy to see how a modern dental crown is able to provide enough support to let you bite and chew without problems. You can also be relieved that injuries to teeth that are more prominent when you smile can be protected with a lifelike crown.
Planning Dental Work To Replace A Tooth That Cannot Be Saved
In the event a tooth's injury is too severe to make saving it possible, your dentist can discuss the placement of a dependable dental prosthetic. With dental implant support, you can be happy to see how your dental function is preserved, while also appreciating the way your smile still appears complete and healthy!
Dr. Browne Is Ready To Help You If You Experience A Dental Injury
Dental injuries can be severe, even if your tooth is still in place. Dr. Browne is ready to help Prairie Village, KS residents who find themselves in need of urgent treatment for an emergency. If you have questions about this service, contact our office today at (913) 901-8585.