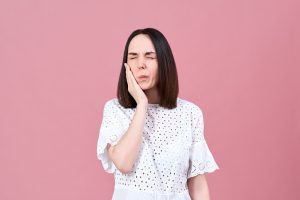 There are real problems that can occur after your tooth is cracked. One problem is that you can be vulnerable to bacterial infection in the tooth, which can create serious oral health consequences. There is also the matter of the tooth's structural integrity, which can be compromised by harm. Fortunately, you can seek treatment for this problem with minimal delay, as your Prairie Village, KS dental practice offers emergency dental services! By taking care of any issues concerning an infection, and restoring the tooth, your dentist can make sure your dental needs are completely settled. If you are hesitant to seek care for an injury, keep in mind that dental damage can remain without proper care, and can worsen over time if nothing is done about it.
A Cracked Tooth Could Be A Serious Problem For Your Oral Health
When your enamel is cracked, that newly created space can welcome harmful bacteria. If those bacteria are able to enter your tooth's interior, you can start to feel serious discomfort related to the infection. Once bacteria build up within your pulp, your tooth's living tissues are in jeopardy. Once they travel through your root, the only option left to you can be a tooth extraction.
Properly Treating And Restoring Your Tooth
To make sure your cracked tooth is fully treated, your dentist may have to perform a root canal procedure, to deal with an infection. Once the infection concerns are fully addressed, care can be taken to restore the tooth with a dental crown. The crown will closely match the look of your surrounding teeth, and it can provide enough support to let you use it to bite and chew food. It is worth noting that you may need a crown, even if a root canal is not called for. This is because your dentist may fear that the current degree of damage will affect your biting and chewing, or worry that it may worsen as time passes.
Emergency Care Can Put A Quick Stop To Your Dental Issue
Emergency dental services offer great relief for people alarmed by tooth trauma, and those who are in pain. If your tooth is cracked, loosened, chipped, or knocked out by an injury, let your dentist know as soon as possible. You can also treat significant tooth pain as an emergency, as this can be a sign of an urgent matter that needs to be addressed.
Dr. Browne Is Ready To Provide You With Emergency Care
Dr. Browne is ready to help those patients who experience dental emergencies! If you crack your tooth, you can count on prompt support, so that the matter is properly and fully treated. To learn more or to schedule a visit with Dr. Browne, contact our office today at (913) 901-8585.