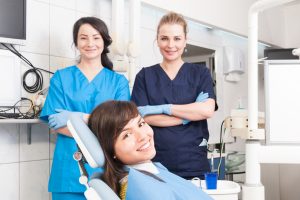 You find yourself in pain, and reacting to the sight of your chipped, cracked, or even dislodged tooth. How should you respond to this situation? Dental emergencies can be disorienting, as you feel concern around pain, and a potentially permanent change to your smile. Fortunately, your Prairie Village, KS dentist is prepared to help you address a dental emergency in the event that you experience one. You can count on restorative dental work that addresses the damage to your tooth, and puts a stop to any internal problems. The restoration you receive to protect the tooth can allow you to bite and chew like normal, and it can fit in nicely with your smile.
What Will It Take To Properly Restore A Tooth Injury?
Different people can have different experiences with tooth injuries. You may find yourself with a tooth that hurts, but shows little or no signs of trauma. It is also possible for an injury to leave your tooth badly damaged, or at risk of being lost. After meeting with you, and examining your tooth, your dentist can make plans to treat your smile. That may involve a root canal treatment, an effort to reinsert the tooth, or even plans to replace a tooth that is too badly harmed to be saved.
Your Injury May Cause Internal Dental Damage
After experiencing tooth trauma, you can be relieved to see no signs of damage. However, that does not mean nothing is wrong. If your tooth continues to ache after an injury, you could be feeling the effects of internal troubles. Your dentist can remove damaged or infected tissues during a root canal treatment, and make sure the tooth is properly protected after that work is completed.
The Right Restorative Work Can Offer Lasting Support For Your Tooth
Restorative dental work in response to a dental emergency can ensure your tooth is protected, and that you have no issues with your dental function. A modern dental crown can match the look of the tooth in need of protection. Once your custom crown is designed and placed, you can feel confident in your smile, as well as your ability to bite and chew without discomfort. Your dentist can also provide lasting support for a replacement tooth when you receive a dental implant to hold your prosthetic.
Dr. Browne Can Address Your Dental Emergency
Dr. Browne is ready to help patients in and around the Prairie Village, KS area who experience dental emergencies. Our practice can make sure you are promptly treated, and that the problems with your smile are fully addressed. We are also ready to help you if you need to arrange routine preventive, cosmetic, or restorative care. To learn more, or to set up a visit with Dr. Browne, contact our office today at (913) 901-8585.