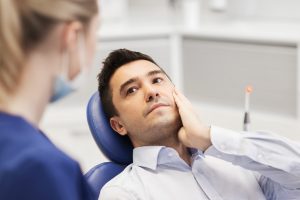 It can be scary to feel a loosened tooth in your mouth after an accident. While it may not be lost, you can be unsure of its health, and worried that it may fall out if you are not careful. You can also have some understandable concerns about the condition of the tooth after an injury partially dislodges it. Your Prairie Village, KS dentist can work with you in the event of an emergency where a tooth is damaged, loosened, or even knocked completely free of your smile. A modern treatment can make sure your smile is healthy, complete, and attractive after your treatment.
Emergency Care Can Make It Easier To Save Your Tooth
If your tooth's is significantly loosened, or if it is too painful to try and gently push the tooth back to its proper position, you may be alarmed at the thought of losing it. Because timing matters in these cases, the ability to see your dentist promptly can make it easier to save your tooth. Of course, prompt care also means having pain and physical trauma dealt with sooner, so you can return to a state of comfort.
Making Sure Your Tooth Is Fully Restored After An Injury
After surveying your smile, and seeing exactly how serious your injury is, your dentist can move forward with the appropriate restorative dental care. In the event it is needed, you can undergo a root canal treatment to stop the tooth from becoming harmed by an infection. To provide lasting support, a dental crown may be needed – your dentist can put a custom crown in place that offers lasting protection. If you are concerned about how you will look after this occurs, you can talk to your dentist about appearance-friendly materials.
Arranging Care To Address A Tooth That Cannot Be Saved
If a tooth can be saved, your dentist will make every effort to save it. With that said, an injury may be severe enough to make extraction and replacement the best approach. In the event this occurs, you can be relieved to know that you can have an implant-held restoration. This arrangement can be durable, and it can look lifelike, so you can remain confident in how your smile looks.
Dr. Browne Can Help You Address A Problem With A Loosened Tooth
If you have a loose tooth after an accident, emergency dental care can be important. Dr. Browne welcomes patients who find themselves in need of emergency care to reach out and arrange prompt support. Our practice welcomes families in and around Prairie Village, KS to enjoy our variety of oral health services, including restorative, cosmetic, and routine care. To learn more or to schedule a visit with Dr. Browne, contact our office today at (913) 901-8585.