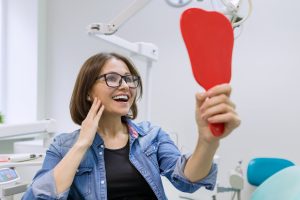 Emergency dental issues refer to any problems that are, well, urgent. The word "emergency" leaves little doubt that the problem is serious, but you may worry about finding a dentist who shares that sense of urgency with you when something happens. Fortunately, your Prairie Village, KS dentist is prepared to bring in patients who experience problems that call for swift action. Addressing your discomfort, and stopping an active problem, can bring about valued relief. With that said, your problems may not be limited to the pain you feel – you can be understandably worried about your smile after an emergency situation. Fortunately, you can rely on modern care to provide work that helps you maintain the way you look. 
Ignoring A Dental Injury Can Make Matters Worse
Ignoring a dental injury means more than just spending more time in pain. If your tooth is infected after trauma, the problem can actual worsen as you go without treatment, and a tooth that could have been saved can reach a point where it has to be extracted. Even if you are not able to observe signs of trauma, lingering discomfort is something that should be addressed.
Restorative Work Can Address Problems With Your Oral Health, And Your Appearance
Modern restorative dental procedures offer lasting support for damaged teeth, while also repairing esthetic problems caused by damage. For many injuries, a dental crown will be the appropriate response. Your crown will be custom-made, and designed so that it serves as an impressive visual match for the tooth being protected. To put it another way, your restoration should be durable and attractive enough so that you can forget about it when you smile, bite, and chew food.
Dr. Browne Can Make Your Emergency Dental Work A Priority
If you find yourself in need of urgent treatment after an injury affects the condition of your tooth, you can be glad to know that Dr. Browne is ready to help. Patients in and around Prairie Village, KS can rely on Dr. Browne for emergency care when a situation calls for this kind of work. To learn more, or to set up a visit with Dr. Browne, contact our office today at (913) 901-8585.