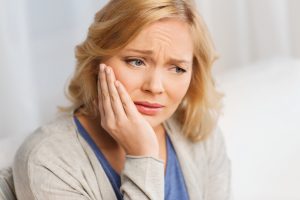 Is it time to panic when you crack a tooth? You can be understandably upset about the way visible damage impacts your smile, and you may be in pain from the injury. With that said, you can be relieved to know that your Prairie Village, KS dentist is ready to help you if you suffer an injury and need prompt care. Dental work to repair a cracked tooth can lead to a restoration to protect you against further structural harm. Care can also involve a treatment for the interior of your tooth, as injuries can sometimes result in infections that need to be addressed. In addition to acting quickly to deal with your injury, your dentist can offer support in the form of a lifelike restoration, so your smile still looks good.
What Kind Of Problems Can A Cracked Tooth Cause?
A crack that exposes your pulp can make you vulnerable to an infection. If one does occur, you can experience discomfort until the matter is addressed. If too much time passes, your tooth could be lost. A crack that seems minor can still be trouble, as your tooth may be vulnerable and likely to incur more damage.
A Dental Injury Can Hurt Your Smile, But Modern Care Can Help
When dental damage leaves your tooth weakened or vulnerable, you can count on support from a dental crown to keep it safe. In addition to protecting you against further harm, a crown can actually help with the look of your tooth. A restoration can be produced to match the look and size of your natural tooth, so your appearance seems unchanged after treatment!
Dr. Browne Is Ready To Help Patients Who Experience A Dental Emergency
If you experience a dental emergency, prompt care is available from Dr. Browne! Our practice can take care of patients in and around Prairie Village, KS who find themselves in need of urgent attention. Of course, our practice is also ready to help you with routine matters, including routine dental care. To learn more or to schedule a visit with Dr. Browne, contact our office today at (913) 901-8585.