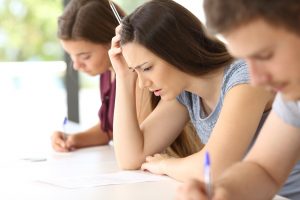 A dental emergency that leads to clear signs of physical damage, or the loss of a tooth, can clearly call for professional dental care. With that said, you may be unsure of what, exactly, you can do to secure urgent treatment in a situation where you need it. You can be happy to know that your Prairie Village, KS dentist's office is ready to help in the event of a dental emergency. You can make arrangements for prompt care, so that a problem is swiftly addressed. Because your dentist offers modern restorative dental care, you can look forward to work that protects you against oral health troubles, while also preserving your appearance.
Questions:
True Or False: Your dentist can only offer emergency care if your tooth is completely dislodged.
True Or False: If you experience persistent pain, but have no obvious signs of dental damage, you should just try to ignore it until your next routine dental appointment is scheduled.
True Or False: Modern dental work can provide protection for damaged teeth, while also offering cosmetic benefits.
Answers:
False! A tooth that is chipped, cracked, or in a state of persistent discomfort could require emergency care. If you have any of these issues, reach out for prompt restorative dental treatment.
False! Persistent discomfort could be a warning that your tooth is infected, and posing a threat to your overall oral health. Seeking urgent care can be important.
True! Modern dental crowns can reliably protect injured teeth. With that said, these restorations can do more than just help you avoid further troubles with your oral health. The materials used can closely resemble your healthy dental enamel, so that your smile's quality is consistent.
Dr. Browne Is Ready To Offer Emergency Care To Patients!
Hopefully, emergency dental care is something you never have to count on from your dentist. With that said, it can be important to know that it is available. Patients of Robert M Browne, DDS can look forward to receiving urgent care when they need it, and they can look forward to that care addressing the cosmetic and oral health effects of damage. To learn more or to schedule a visit with Dr. Browne, contact our office today at (913) 901-8585.