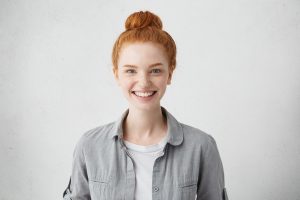 If you experience a dental injury that leads to a chipped or cracked tooth, what can you expect from treatment? Your Prairie Village, KS dentist's office can offer emergency dental care to patients, but what will come from that work? In addition to making sure your oral health needs are addressed, your dentist can provide a modern restoration that improves the way you tooth looks. In cases where an injured tooth can be saved, a lifelike dental crown can take on the challenge of protecting it, while also blending in nicely with your smile. If you experience a more serious injury, and the tooth is lost, you can find out how prosthetic dental work can provide support for your appearance, and oral health.
Using A Dental Crown To Protect A Damaged Tooth
Dental crowns are secured over teeth that need permanent protection against problems, as well as functional support. If you are in need of care for a tooth that is prominently featured in your smile, your dentist can talk to you about a restoration that provides the support you need, while also fitting in easily with your neighboring teeth. With that crown in place, you can feel confident in your appearance, and your ability to bite and chew.
What Can I Do If I Lose A Tooth In An Emergency Situation?
A restoration held by a dental implant can offer valuable support if you lose a tooth after a dental emergency. The implant acts like a tooth root would, holding your restoration in place by connecting it with your jawbone. This means it can be durable enough for biting and chewing, and it can feel like a natural presence!
Dr. Browne Can Help You Deal With The Functional And Cosmetic Effects Of An Injury
If you want to seek care that can help you regain your smile, and protect your oral health, you should know that Robert M Browne, DDS is ready to provide dedicated support after an injury. Our practice is proud to help patients in and around Prairie Village, KS enjoy routine treatment, and we are ready to help in case of emergency. To learn more or to schedule a visit with Dr. Browne, contact our office today at (913) 901-8585.